Onsite mobile stainless steel welder, London, Cambridgeshire and surrounding areas
Industrial - Commercial - Agricultural welding services
Metal/Steel repairs, modifications, alterations,

construction works

,

plant and equipment repairs

,

coded structural welding

,

coded water pipe welding

,

coded gas pipe welding

....
Specialising in

aluminium welding

, stainless steel and cast iron repairs in


Cambridge, London, Luton, Huntingdon, Royston, Baldock, Bedford, Stevenage, Bishop's Stortford, Harlow, St Neots, Cambridgeshire, East Anglia.
MetalFirstAid.co.uk

34 years of welding, engineering and construction experience

Experienced, proficient,
onsite mobile welder.

Solving all your
welding problems

Deon van Rooyen

Coded Welder

Mob: 07745775212
Tel: 03336663213
eMail:
Deon@
AllMetalWeldingServices.co.uk

I very seldom go out to a client to look at their welding requirements.
My approach to work is
"nothing is a problem"
Stainless steel hand rail welding

Repairs to a stainless steel hand rail
at a school in London

Mobile Onsite 316 Stainless Steel Welding Services

These stainless steel trollies are used in a salmon smoking fish factory. They carry over 600kg of salmon when they are loaded into the oven. I was called in to rebuild and strengthen about 12 of them. Hence the lorry strap shown above to get them straightened and squared up again before welding. I used 316 stainless steel welding rods because all stainless steel in the food industry must be 316 stainless steel. I used stick welding which was a little tricky in that the material was 1.6mm thick in some places. It would have been better to use a MIG welder in this application but the client, GoldSalmon.co.uk in London, supplied the welding rods.
____________________________
34 years of welding experience
Reliable and friendly, mobile onsite welding services
in Cambridgeshire and London areas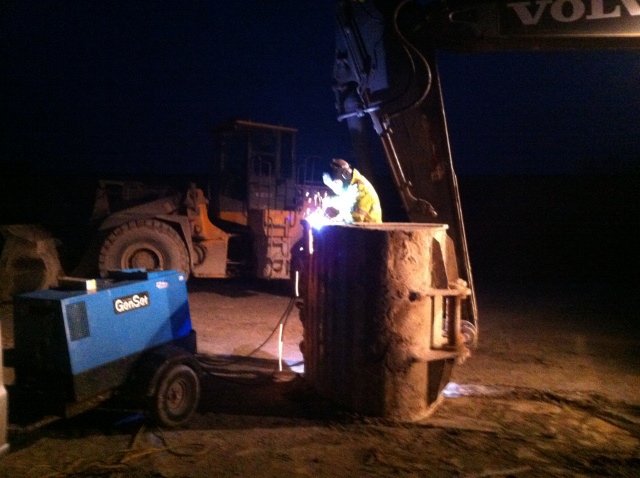 Mobile Onsite welding services welding aluminium, stainless steel.....all metal welding services

Above showing a smooth aluminium edge welding technique.
This was a vertical up aluminium weld, or vertical down aluminium weld. This welding technique works just as well in either direction.
by Deon van Rooyen



34 years of welding, engineering and construction experience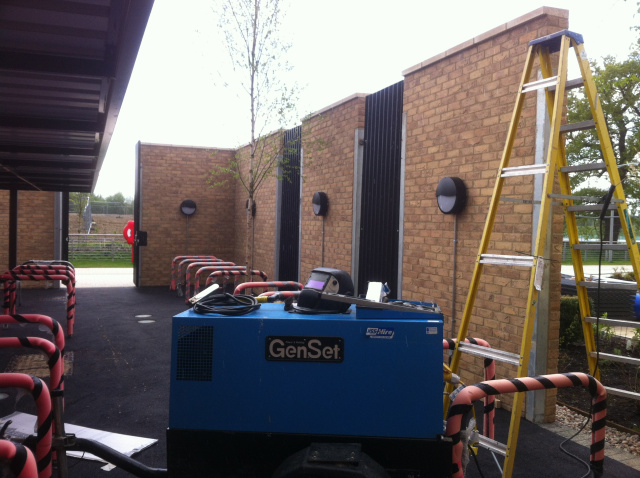 Above shows some mobile onsite welding work I did for FrontierPitts.com on a Willmott Dixon construction site for West Cambridge Campus.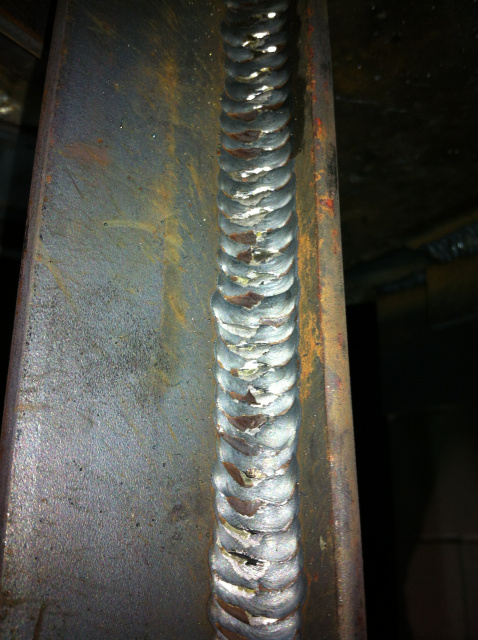 This is an example of a vertical up MIG weld using a triangle - Christmas tree technique. 15mm fillet weld in one run, while still ensuring full penetration.


Mobile Onsite Welder
Health & Safety card
____________________
Method Statement
template supplied.
HEALTH & SAFETY
ASSESSMENT
PLUS
Qualifications & Insurance details
__________________
Deon van Rooyen



Award in Welding Skills
Qualified Welder
3268-205


MetalFirstAid.co.uk

If you like our services, would you please leave a review on our
Google Maps page
Find us on Google Maps

Look for: Write a review
All our welding equipment is dual voltage 110 - 240v to comply with construction site health and safety regulations and standards.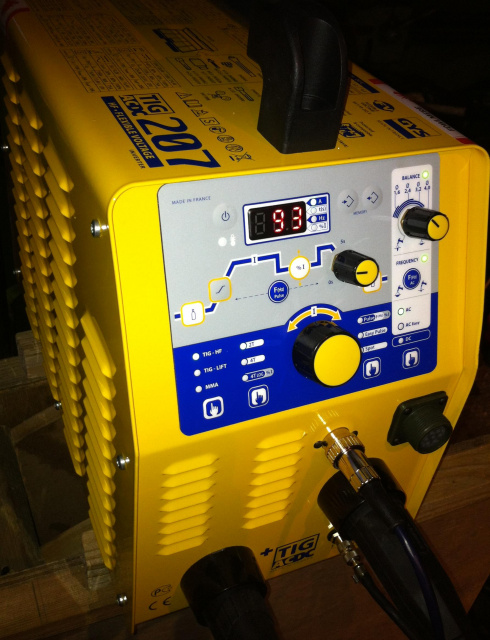 This is one of our light weight, dual voltage, latest inverter technology TIG welding machines to weld thin steel, aluminium and stainless steel.
Using the correct machine for each welding application
We carry 3 different types of dual voltage welding machines with us at all times.
MIG welding machine

TIG welding machine

Stick/ARC welding machine
Plus gas welding and cutting facilities.
The reason for having a variety of machines available is to achieve the best results.
Each welding application is different and requires a different approach/welding machine and technique to solve the problem.