I recently complete some work for BlackBerry who launched their new mobile phone on the 26/04/13, plus some work done for McLaren, the F1 racing team. Sorry, I couldn't resist some name dropping here.


CSCS Skilled Worker
Construction onsite
access card
CSCS Registration Number:
04664389/1
____________________
Method Statement
supplied onsite.
HEALTH & SAFETY
ASSESSMENT
__________________
Deon van Rooyen



Award in Welding Skills
Qualified Welder
3268-205




PAL - IPAF
Powered Access License
Types: 3a 3b
(Cherry picker operator license)


MetalFirstAid.co.uk

If you like our services, would you please leave a review on our
Google Maps page
Find us on Google Maps

Look for: Write a review
All our welding equipment is dual voltage 110 - 240v to comply with construction site health and safety regulations and standards.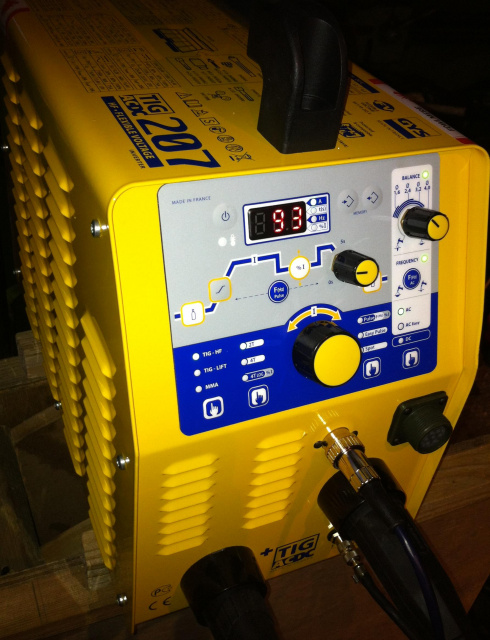 This is one of our light weight, dual voltage, latest inverter technology TIG welding machines to weld thin steel, aluminium and stainless steel.
Using the correct machine for each welding application
We carry 3 different types of dual voltage welding machines with us at all times.
MIG welding machine

TIG welding machine

Stick/ARC welding machine
Plus gas welding and cutting facilities.
The reason for having a variety of machines available is to achieve the best results.
Each welding application is different and requires a different approach/welding machine and technique to solve the problem.





Aluminium - Stainless Steel Onsite Mobile Boat Welder, London, Cambridgeshire and surrounding areas
Industrial - Commercial - Agricultural welding services
Metal/Steel repairs, modifications, alterations,

construction works

,

plant and equipment repairs

,




structural welding

,

metal fabrication

,

water pipe welding

,

gas pipe welding

....
Specialising in

aluminium welding

, stainless steel and wrought iron repairs/fabrication in


Cambridge, London, Luton, Huntingdon, Royston, Baldock, Bedford, Stevenage, Bishop's Stortford, Harlow, St Neots, Cambridgeshire, East Anglia.
MetalFirstAid.co.uk

34 years of welding, engineering and construction experience

Experienced, proficient,
onsite mobile welder

Solving all your welding problems

Contact:

Deon v

an Rooyen



Mob: 07745775212
Tel: 0333 666 3213
eMail:
deon@AllMetalWeldingServices.co.uk



Welding on the water proved to be very challenging in keeping myself stable while welding when the boat was rocking from side to side.
Rather tricky but worked out very well in the end.

When you are aluminium TIG welding, you need to use both hands, one to hold the torch and the other to feed the aluminium welding rod. You then need to use your legs and elbows to steady yourself when working on a rocking boat.

These boats are used on the Thames in London
leaving from the London Eye
for high speed boating tours/trips/rides, up and down the river



www.London

Rib

Voyages.com
Aluminium TIG welding on the river Thames in London
I used the welding shield for health and safety reasons to prevent anyone from looking at the arc light and getting arc eyes as-well-as shielding myself from the wind blowing on that day. When using a TIG or MIG welder one uses argon gas as the welding flux so to speak, to get rid of the oxygen when welding, but if the wind is blowing, the gas is blown away and causes oxidation and results in a poor weld.
34 years of welding experience
Reliable and friendly, mobile onsite welding services
in Cambridgeshire and London areas
Mobile Onsite welding services welding aluminium, stainless steel.....all metal welding services

Above showing a smooth aluminium edge welding technique.
This was a vertical up aluminium weld, or vertical down aluminium weld. This welding technique works just as well in either direction.
by Deon van Rooyen



34 years of welding, engineering and construction experience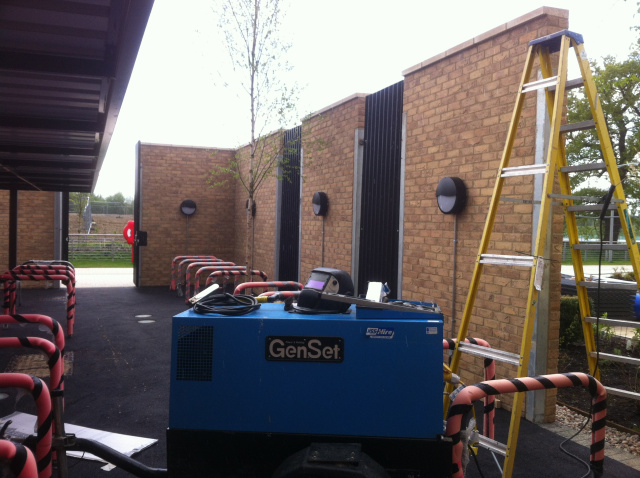 Above shows some mobile onsite welding work I did for FrontierPitts.com on a Willmott Dixon construction site for West Cambridge Campus.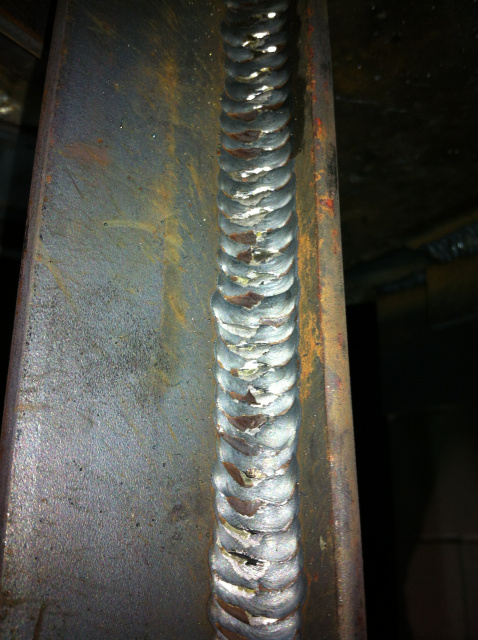 This is an example of a vertical up MIG weld using a triangle - Christmas tree technique. 15mm fillet weld in one run, while still ensuring full penetration.