What is, Welder Shielding Gas?
What is MIG welder shielding gas, and why is it used for in welding. MIG and Arc welding both use a shielding gas.
The shielding gas is an inert gas which is not harmful.
See the explanation in the images coming up.

The difference being, MIG welding has a gas bottle, supplying either pure Argon gas (used for non ferrous metal welding like aluminium, stainless steel) or Argo shield gas, a mixed gas (used for mild steel welding).
Whereas, Arc welding rods produce their own shielding gas from the flux coating around the welding rod as soon as you strike the welding rod to start welding.
The shielding gas is used to get rid of any oxygen within the welding puddle. The welding pool, or welding puddle as it's called is the liquid, molten metal puddle running at around 1440 degrees C for mild steel, created as soon as you strike and start the welding process. This welding puddle is the fusion process of bonding, fusing two bits of metal together. Done correctly, will be stronger than the material itself.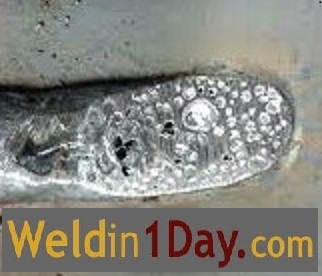 This image shows a bad MIG weld where oxygen has crept in and contaminated the weld. The oxygen creates bubbles in the weld which weaken and compromises the strength of the weld.
When this occurs, you need to grind or cut the weld out completely, and start again.

This seldom happens with Arc welding, because the gas is instantly created and present at all times.


MIG welding however is susceptable to this happening occasionally. If you have wind blowing around you it will more than likely blows the argon gas away.
Or, if you happen to run out of gas.

Also, if the gas flow-rate is not set high enough, or if you happen to pull the MIG welding torch away too far from the welding puddle.
It could also happen if the angle of the welding torch is incorrect plus moving in the wrong direction but, this will all be explained in detail later on in the course, to prevent it from happening to you.

Discover all the information needed to become a
proficient welder in our Weldin1Day course.
Introductory price offer for only $297 US
That's 50% off the original price.

We had our minds set on $594 for the long months
of hard work structuring this valuable
and useful information together.
Price increase to $594
once the offer is over.
You are welcome to leave your details to contact you
once the course is completed.
Here is some free information to get you started:
1. Weld in 1 Day introduction.
2. Arc Eys - H&S
3. Stick welding vs Mig welding
4. Welder Shielding Gas
5. Best Beginner Welder + Preparation
6. Best Welders for Beginners
7. MIG and Arc Setup
Cracked motorcycle crankcase repairs
Welding course material.
8. Weave straight line welding.
9. How to MIG weld successfully.
10. How to Arc weld successfully.
11. How to vertical up weld. MIG & Arc.

Weld in 1 Day

™

Weld in 1 Day

©