Best SEO Company
We regard ourselves as the Best SEO Company, within our niché.
We are esentually a mobile welding company in London - England. But, our SEO specialist has branched out to help other welding companies approaching and asking us "how to get my business on Google"
SEO Website
We owe our success in the mobile welding industry to our website showing on Google first page in London. Benefitting from more work than we can cope with. Hence the reason for starting this SEO Website business. A search engine optimization company helping other welding companies in and around England to appear on Google first page, as-well-as other countries around the world.
How to get your business on Google
Example of Partnership Web Page appearing on first page
First page Google, Yahoo, Bing in your area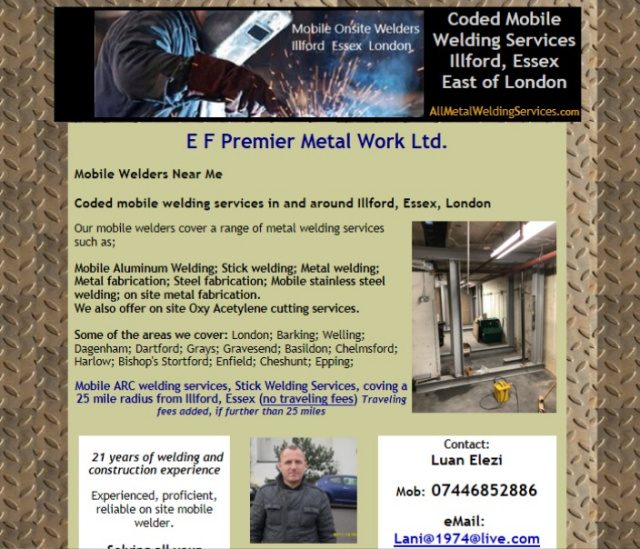 SEO Website
In ANY Town/City of your choice
Anywhere in the world !

2 weeks FREE trial, after you show up on Google first page
then a fixed monthly fee of £297
GUARANTEED RESULTS
No long term contracts
One months written notice to opt out
That's after, an initial 3 month introduction commitment
We send you comprehensive monthly Google Analytics statistics on how much traffic (customers looking for your welding business) has passed through your web page.
This is one example of what you will receive each month
You will receive additional monthly reports and statistics showing:
How many visitors

What search phrases were used to find your business

Where visitors came from ....... and much more



Contact Jessica van Rooyen to discuse how we can move forward to help you secure your business on Google first page to benefit from a lot more customers on a regular basis.
SEO SEM
We have created a niche´ in the market specilizing in welding companies, assisting them in "how to get your business on Google".
SEO SEM - stands for Search Engine Optimization & Search Engine Marketing
This is something where we specialize in both areas. SEO is the technique and methods used in, how to get your website on Google. That means your web page will appear on Google first page in the organic search section as shown in the screenshot below.
It has been tested and shown that people click on organic searches far more than they do on the Google adverts at the top, side and bottom of the page.
See how www.allmetalweldingservices/..... appears in the first 4 positions on Google first page, right after the last Ad. Dominating the page.
We have deliberately not optimized All Metal Welding Services for quite some time now. Hoping our website would slide down the ranking position because the phone simply does not stop ringing. We give a lot of our work away to other welding companies.
SEM. Once we start driving traffic (new customers) to your business, we have a second Google web page we will setup to benefit you even further. This is part of the package.
We optomise this as well for you.
We also have a number of welder training courses. Learn to weld, in 1 DAY courses, which we show you how to benefit from by simply placing sales links on wed sites and emails.
SEO Firm
We have studied SEO techniques since 2003 which is an ongoing process as the Google algorithms are constantly changing from month to month. Our SEO firm has invested a substancial amount of money and continue investing in SEO software to keeping up to date with the constant changes. Our SEO software gives us the upper hand. If an SEO firm does not have this SEO software they don't stand much chance of being at the top and staying at the top.
Contact Jessica van Rooyen to discuse how we can move forward to help you secure your business on Google first page to benefit from a lot more customers on a regular basis.
Jessica is recovering from major surgery so only contact her from 01/08/18 please
Jessica van Rooyen
Mob: +44 7708 836 222
eMail: jessvr@fsmail.net
Marketing Manager
or
Deon van Rooyen
Mob: +44 7745 775 212
Tel: +44 333 666 3213
eMail: DvRwelder@gmail.com
SEO Manager